---
---
ADVERTISING
---
Haflinger Pages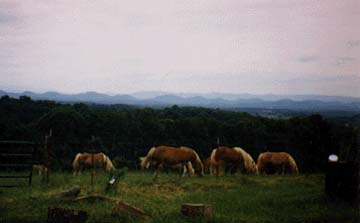 ---
Advertising a Haflinger for Sale or at Stud
Advertising a Haflinger for sale or at stud will be $25 for 6 months. Please send up to four pictures - of the featured horse and of the sire and dam if desired. Also please include the featured horse's pedigree. Please be sure to include price, pertinent information, your telephone number, mailing address, or e-mail address.
How about this? For $75 you can run an ad for one year, changing the featured horse up to 5 times - that's 5 ads, run serially.
There are many wanna-be Haflinger owners looking here for well-trained Haflingers and those that have been advertised on this site have sold quickly. We are frequently getting inquiries from around the country for good family and performing horses and occasionally getting inquiries about where a stud can be found in the local area. If you have a Haflinger for sale, you really ought to give this venue a try.
Farmsite links for one year are $25.00.
Advertising Haflinger Equipment or Items
If you have Haflinger equipment you want to sell, this is the procedure: Equipment or items under $100 are free - just e-mail a paragraph we can cut and paste on the page. Items $101 and up, please send a $5 advertising fee. If you want to include a picture or pictures with your ad, please send a $10 advertising fee. For all items, it is necessary to include a price with your ad. Don't forget to also include information about getting in touch with you.
Mail all materials to us at: Haflinger.net, 344 C. R. 405, Athens, TN 37303-6534. If you want us to return your pictures, simply include a self-addressed stamped envelope, and we will do so.
If you prefer to e-mail materials to us, please do so. We can also take payments through VISA and MASTERCARD.

---
Return to Main Page